Day 3 adventures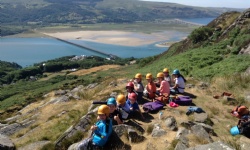 We have all enjoyed another beautiful day taking part in lots of adventurous activities.
We've all enjoyed another beautiful day in the countryside taking part in a variety of exciting activities. Two groups participated in a water adventure learning to Kayak. We started a little wobbly but soon got the hang of it. Playing games in the water was extremely fun. We got a little wet but it was worth it! Conquering our fears, some children climbed a rock face bravely reaching the top. We all had to work as a team to encourage and help each other to scale rocks. Archery was another activity that some children challenged themselves with. We had to focus hard and really concentrate on the target in front of us. It was difficult but we all improved and hit the target in the end. Another group had an exhilarating time on a daring zip wire!
All of the children are very excited to challenge themselves again tomorrow.