Day 4: fun times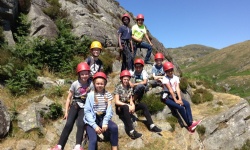 In the sizzling heat of sunny Wales we continued our adventures for one final day of fun!
On our final day the children again experienced a variety of new and exciting activities. Archery was a firm favourite with children. They were constantly improving and sharing their understanding of the sport with each other. Some accurate children even managed to hit the bullseye!
Climbing the rocks out in the beautiful sunny weather was enjoyable. Setting themselves goals and conquering their fears the children were soon scampering up the rock face as if they had been doing it for years. There was a lot of teamwork involved holding ropes, encouraging their friends and supporting each other so that everyone could succeed.
Kayaking in the cool lake was another hit with the children today. Playing games and learning new skills was a super experience that everyone will remember forever.
The low ropes required a lot of concentration as the children had to support each other around the complex course. The children enjoyed the zip wire taking a brave step and allowing the ropes to support them. Catching each other and learning how to move and manipulate the equipment safely helped them to develop their teamwork and communication skills (all except when they decided to not catch their teachers!).
As day 4 comes to an end, the children have been busily packing getting ready for home. All of the children have experienced new things and made memories to last a lifetime. We look forwards to travelling home to share all of the great stories and adventures we have had on this marvellous trip to Wales.