Green Trees Schools Award!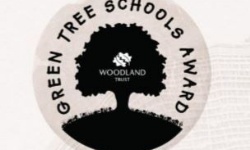 At Cecil Road Primary and Nursery School, we have worked hard and in recognition of this we have been awarded the Green Trees Schools Award by the Woodland Trust.
The Woodland Trust has awarded us the Green Tree Schools Award, and now we are all officially qualified School Woodland Ambassadors. This project has been run by Miss Honey, and her hard work to develop forest schools and outdoor learning has been rewarded. We are very proud of our new award! Well Done Everyone!