A New Misty World...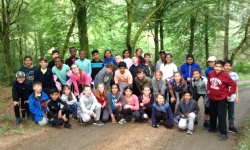 Year Six have arrived in a whole new world...
We arrived after a long, misty coach journey at our destination. After a short talk with some of our new guides, we began to explore the centre.
We had a fantastic time orienteering. Discovering the wonderful scenery and the beautiful setting, we were able enjoy the environment whilst investigating the woods. Using maps and working as a team, we hunted for the different selected woodland areas.
After a scrumptious dinner, the whole group headed out for an evening hike. From higher up we were able to look out at the magical views this place has to offer ranging from mystical mountains to mysterious woods. Now back at the centre relaxing in our dorms, we can't wait for the adventures that await us tomorrow.