Could it be magic for Year 4?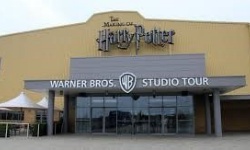 Year 4 children and staff are buzzing from their magical experience of visiting 'The Making of Harry Potter' at the Warner Bros. Studio this week.
As the grand finale of our 'Could it be magic?' topic, Year 4 had the amazing opportunity to visit 'The Making of Harry Potter' Warner Bros. studio tour. In what turned out to a fantastic day, the children were able to walk through multiple sets used in the films as see many props, costumes and special effects. Some of the highlights were; walking through The Forbidden Forest, experiencing the magic of The Great Hall and watching the dragon destroy Gringotts Bank (prompting lots of excited screaming from the children and teachers!) What a fantastic experience it was for all of us.