Faces all aglow!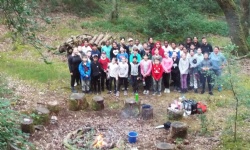 A swim, a zip and a climb… it is all going on for year 6 today!
An excited bunch of children awoke in their dorms. With the knowledge of our new groups and some thrilling activities ahead, the day began.
One group went on a mountain adventure to remember with stunning views of the area. Learning all about the plants around them, they enjoyed a hard but refreshing hike though the hills.
Another (rather soggy) group were enjoying themselves kayaking. With a few tentative steps all soon were speeding around the lake playing games. Some daring children even managed to stand up inside their kayaks! After a few (somewhat unexpected) falls into the water, many enjoyed a little swim.
Zipping through the trees, the children had to use their teamwork and cooperation skills to help each other on the zip wire. The courageous children were soon smiling and laughing their way through the woodland.
After a filling dinner, we all went up to the campfire. Campfire songs and an impromptu production tune made everyone happy. Smiles broad and singing beautifully, we all had a tasty self-made s'more to top off another spectacular day! We are looking forward to our next adventures…