Aiming High!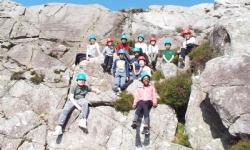 Another challenging yet exciting day on the residential trip! A day full of cooperation, courage and creativity.
Some groups were enthralled by learning a new skill: archery. The children got to grips with bow and arrows and soon were firing as if they were modern-day Robin Hoods! Working in groups, they competed against each other to win team points and shoot the tricky, blowing balloons. Some cracking shots were fired by a keen-eyed set of year 6s who had their aim on point!
Kayaking was another activity where the children picked up a new skill. They were soon racing through the water and playing games. Learning to manoeuvre the oar to travel forwards, backwards and round in a circle, the children put their new abilities to the test playing kayak games. They ever managed to create a raft lining their boats up together using some brilliant teamwork!
Some groups demonstrated their determination, courage and tenacity whilst rock climbing up the mountain side. With breath-taking views and a challenging rock face, rock climbing was an excellent adventure adored by all. Working together and encouraging each other many children scaled new heights and amazed themselves climbing higher and higher!
After a delicious dinner, the whole group participated in a marvellous event. The children used some of their creative energy to produce some inspiring (some unusual) creations. We all loved dancing together and being creative this evening.
Now tucked up in bed, we are all dreaming of what is yet to come.