Fun in the Sun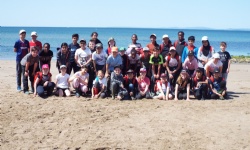 Waking up for our final day, we were all extremely eager to head off together for a morning at the beach.
In smaller groups, we all searched the rock pools looking for sea-life. Learning about the different creatures and examining the water, everybody discovered something new. We all had to work together to lift the seaweed and inspect the creatures inside. We found a variety of new and exciting things including crabs, shrimp and fish.
After a quick stop (mainly for a tasty ice-cream treat), we all set off for our different activities. One group scaled the windy rocks bravely climbing upwards. All of the children had to work together to hold the ropes and learn how to stay safe attaching the karabiners together.
Archery proved very enjoyable. The children learnt how to hold the bow and arrow correctly and line up with the target. Improving their skills, the children encouraged each other. A friendly archery competition also helped to make this activity one of the children's favourites.
A mountain adventure was turned into a survival guide with the children learning all about different plants and their unique properties. Climbing up the mountainside was tough but worthwhile work – the views were incredible! Looking out over the countryside, the children were rewarded with a picture-perfect scene of the area, where they could pick out key sites that they had visited. Singing back down the mountain, everybody felt satisfied.
As our final day comes to an end the children have finished their packing ready for home tomorrow. A final evening of fun awaits us …