Kent Finals Netball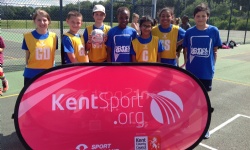 Last week one of our year 6 netball teams has the fantastic opportunity to attend the Kent Finals tournament.
The team of 7 students, who recently won the Gravesham Netball festival, performed brilliantly. They represented the school behaving wonderfully and demonstrating great sportsmanship.
During the morning session, the faced some great teams winning 1 match in their league. All of the children at the finals were excellent players. After a difficult morning session, the team continued with a positive attitude inspired by our school motto: 'Together we achieve more.' The team won their afternoon league winning 3 matches (6 v 0), (5 v 0) and (4 v 3) and drawing 1 match (2 v 2).
The netball team finished in 11th place overall: an amazing achievement! We are all very proud of our netball team and their success – marvellous job team!
A huge thank you also to the staff that supported them - Miss Fryer, Miss Sparks and Mrs Gill.