Stone Age Workshop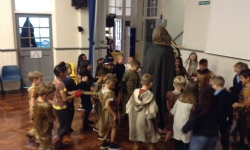 Year 3 had a fantastic day with the Stone Age Workshop - the children wore amazing costumes (thank you parents) and really began to understand the difference and similarities in different time periods.
The workshop gave the children to learn about how the Stone Age people lived, including where in the world they lived. The children showed great understanding and asked some amazing questions.
Throughout the workshop they were making links to the modern world and how different it was.
"Can you imagine no electricity EVER? - it must have been hard work!" Year 3 girl.