Water you doing on day 2?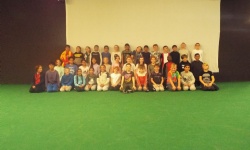 Today we have spent most of the day in the water becoming aqua-boys and girls!
We have all struggled to pull up our wetsuits and venture onto the water. Throughout the morning we have completed sailing, raft building and GSup (Paddle boarding).
Whilst building a raft, we had to use our teamwork skills to use plastic barrels, planks of wood and rope to create a raft that would float. Some of us got a bit tied up but eventually we got there. After building our rafts we took it into the water and hopped on... with some of us hopping (falling) off pretty quickly!
GSup was a very memorable activity, where we got into groups and paddled around in the lake. Although the aim was to remain on the paddle board, a lot of us decided to 'fall' into the water (adults included). We played many games on the board... including one of our favourites from school... pirates!
Sailing was another activity that we completed today. We got into groups, prepped our sails and we were off! Wind speeds varied through the day... some of us were whizzing around whilst others were floating leisurely. We played dodgeball and another pirate game where we had to grab the treasure (well a ball but oh well!).
In the evening, after warming ourselves up with a lovely dinner we all reunited and remained indoors for a mini Olympics. We did a relay, drama and some fun team games! We were no Usain Bolt but we ran as fast as we could to grab the winning... cone!
Today has been very eventful, tiring and wet to say the least! We are definitely going to get a good night's sleep today! Let's hope tomorrow is slightly drier (good weather forecast so far!)