Values and Achievement Assembly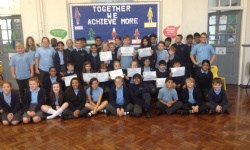 Wow! What a week of demonstrating different ways of achieving our value of COURAGE!
This week we celebrated some of the courage shown by pupils at Cecil Road - We celebrated our amazing Y6 children those that attended our residential and those that showed great courage taking part in activities in school such as the climbing wall and the cyclopark. We celebrated other children this week as well and our children have shown they are amazing role models.
Our March on Monday seems to be gathering pace and more and more children are trying to walk, scooter or bike to school to help them stay healthy and help our environment.
Attendance is doing well with one class achieving 99.6% - The competition is still on till the end of term, we know everyone is trying hard to be in school and on time - so Well Done Everyone!
TT Rockstars - Williams class won with the fastest answer times! and Karan is still top of the Leader Board.
We really enjoy hearing of success and achievements outside of school so please don't hesitate to send in these with your children on a Monday.
Together we achieve more!