A Huge Harvest Thank You!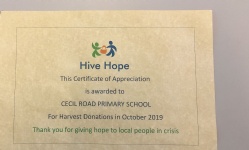 Thank you to everyone that donated to our Harvest collection. We had amazing contributions from chocolate bars to cupboard staples.
We received an overwhelming response for our Harvest Collection this year really proving that 'Together we achieve more'. Some of the Harvest boxes were distributed to local residents nominated by our children and their families, the remaining Harvest boxes were then taken by some of our School Councillors to Hive Hope Food Bank.
We have received huge thanks from the Food Bank and local residents and we look forward to continuing our work proving 'Together we achieve more'.
A huge thank you to everyone that donated and made this harvest very special especially for those in need.