Celebrating our Compassion Value and Achievements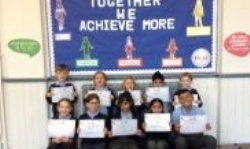 Today, we celebrated Compassion and our achievements.
Today, we celebrated our all amazing children. Some children were chosen and the staff shared stories of when the amazing children showed amazing examples of when they had been compassionate.
TT Rockstars - our school is full of TT Rockstars and we are very proud of them.
Today we celebrated each class Rockstar: Simran, Lucy, Maryam, Ethan, Ayush, Ahmed, Joshua, Kyran, Roopleen and Karan.
Keep playing and practicing those timestables.
Effort with handwriting - our children are working really hard in developing their handwriting and today we celebrated Madihan, Karan, Grace, and Miley and their amazing efforts.
A huge thank you for everyone for working so hard in Term 1 and we look forward to a busy and exciting Term 2.