Marvellous Monday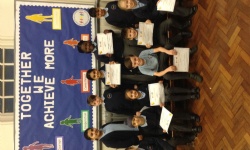 Our Marvellous Monday assembly gave us an opportunity to share children being compassionate in our school. Proving that Together We Achieve More.
Compassion was celebrated today as we shared how children had helped others in our school. Some fantastic examples of true compassion have been shown.
We celebrated some Y5 children who had received handwriting pens.
ATTENDANCE ****EXCITING NEWS **** We are going to have some special visitors Attendance Ted and Punctuality White Rabbit. Today they joined assembly but look out for them at the school gates in the near future.