Let us SHINE!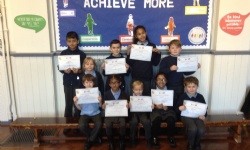 Marvellous Monday assembly began with us singing 'Shine' and our children truly are shining examples of our 5 Core Values.
Marvellous Monday assembly gave us time to celebrate some of the amazing children and share how they had shown COMPASSION over the past week.
We also celebrated various sporting achievements out of school such as gymnastics, football and taekwondo – such great role models!
Recently, some of our amazing play leaders took part in some training from Take Pride, they were a credit to our school and it has been fantastic to see them put their skills into practice. Well Done Play Leaders – You are FAB!
TT Rockstars this week we celebrated the children that had made the most improvements from every class. These children have shown real commitment to their times tables and we are very proud of them.
Attendance was celebrated and there were lots of excitement of when our visitors might next be on the playground – Have you seen our Rabbit and Teddy yet? Be on the playground for 8.45am to see them!
We can't wait to celebrate more next week and look forward to sharing this with you as Together we achieve more!