Working Together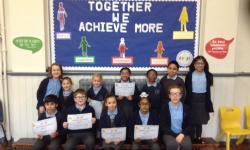 Our children are ALL working so hard, this has been noticed by our staff and this was even commented on by visitors last week. Well Done Everyone!
Our Marvellous Monday began with singing 'A Million Dreams' from the Greatest Showman, the children really enjoyed this and proved they already knew lots of the words.
We celebrated our value of Cooperation this week when individuals, groups and whole classes were celebrated in showing examples of amazing cooperation in our school. These were in lessons and at playtimes too!
Well Done Everyone!
Some children celebrated awards from outside school, such as an art award and Man of the Match in a football game - Fantastic to see!
Attendance is constantly improving and a HUGE well done to Gandhi for 100% attendance so non uniform on Friday this week!
Handwriting effort has been amazing and lots of certificates for this have been given to children in Key Stage 2. These are for those children that consistently try to improve their handwriting. Well Done Everyone!
We hope everyone has a Marvellous Monday and a great week.
'Together we achieve more'