Marvellous Monday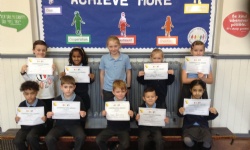 Today we celebrated examples of cooperation with these amazing children and the whole of Attenborough Class for their class assembly last week.
Our children have been amazing this week again!
We sang our way in with 'Walking on Sunshine' which cheered everyone up!
We celebrated the achievements of the children both in school and out of school - what amazing examples our children set.
This week we heard the fastest players on TT Rockstars - keep up your hard work!
Attendance is on the rise, after a bad bout of colds and coughs - with 3 classes achieving an amazing 100% last week which means they will be in own clothes on Friday.