Celebrations on Marvellous Monday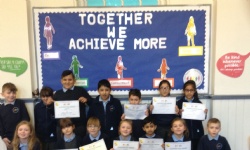 This morning we celebrated the many achievements by our amazing children and staff!
Today lots of children were celebrated for working so hard on cooperation - this was in class, in clubs, with friends, in groups and with staff - the staff shared fantastic tales of how amazing each of the children are.
We also celebrated our AMAZING choir who last week performed at the O2 as part of the Young Voices Choir - also a huge thank you to the staff that accompanied the children. A fun time was had by all.
Mr Phillips also thanked our army of volunteers that are out on the playground distributing bagels no matter what the weather brings, ensuring that the bagels he has baked are shared by everyone.
TT Rockstars was celebrated we found out who had the fastest finger and there are some record breaking speed with their times-tables.
Recently, we have seen lots of the children working very hard on their handwriting and this week lots of certificates for effort and improvement have been awarded to the children - with lots of golden pencils and pens given out to the children.
Attendance is once again heading back to our magic number - so well done everyone - an amazing 2 classes achieved 100% this week - Gandhi and Nightingale - who will be in own clothes on Thursday.
We celebrated what a fantastic term this has been and congratulated everyone for their hard work and effort.
We can't wait to see what Term 4 will bring.... Keep your eyes peeled to see what other exciting activities we have going on!
Together we achieve more! Well Done Everyone!