We rocked the O2 - Young Voices 2020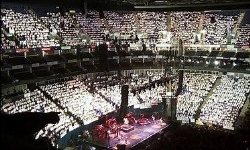 Our amazing choir joined other schools as they sung their hearts out inside the O2 arena in Greenwich, London.
Mrs Picciola, Mrs Barton-Holmes, Mr Clark and Mrs Gill took our amazing choir to the O2 arena to join the Young Voices Choir. The children had been rehearsing in preparation for this awesome event and sung their hearts - proving that our motto 'Together we achieve more' does really work.
The children were all very excited as they were transported up to the O2 for a day of rehearsals. That evening lots of parents joined us as the children sung beautifully. By the end of the evening all the parents, staff and children were bursting with pride and rightly so!
We look forward to seeing the choir perform again - so keep your ears peeled for other opportunities.
If your child is interested in joining our choir please don't hesitate to speak to Mrs Picciola.