Creativity is our Core Value - Marvellous Monday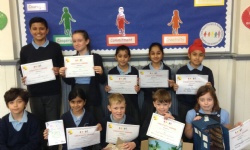 Marvellous Monday was fantastic fun today as we celebrated some of our children who have exhibited our Core Value in Creativity.
Our amazing children have shown how they have used their creativity skills to take learning further and create wonderful examples to share with others.
We heard how children had used their creative skills to problem solve, enhance and create in their learning.
We also celebrated achievements outside of school including Star of the Week in Boxercise for a young lady in Y5 and an appearance as a Mascot at Chelsea Ladies Game against Liverpool by a young lady footballer in Y5.
TT Rockstars this week we looked at the children that had the quickest time in answering the questions this was Ruth in Y6 - Well Done Everyone for trying!
Attendance this week we had 3 classes that had managed above 97% so Well Done Everyone!
REMEMBER: Thursday this week is World Book Day - remember you can choose to dress up as your favourite book children and take part in our wonderful writing competition.