Courage - celebrating our values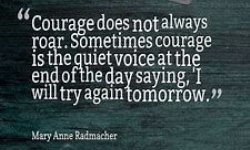 This term we are continuing our virtual celebration assemblies, it has been brilliant to see the children in their classrooms and hear about their amazing achievements.
This term we are focusing on our value Courage. Last week Mrs Quigley introduced our termly value Courage, and how we could show this in different ways. She shared the story of Elton John how he faced different challenges and need to use courage to overcome them.
This week we celebrated the COURAGE our children have shown, and all the staff congratulated all their children for showing real courage in returning to school and settling into new routines with such ease.
For individual children, the staff shared how different children had overcome different barriers and fears by using their courage within.
Mrs Vincent joined our assembly and shared that last week our attendance average was at the magic number of 97%! She also shared that there would be a very exciting attendance prize for 3 classes in Term 2 - Watch out for more news on this!
We hope you have a fantastic week and remember to check out our facebook page to see what else we have been up to!
Together we achieve more.