Celebration Assembly - Courage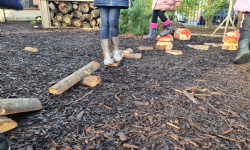 This week we celebrated lots of children's achievements in and out of school! We found out how children stepped out of their comfort zone and showed real courage.
In this week's assembly we celebrated all our children's amazing achievements including children that showed real courage in and out of school.
We heard how children had been courageous in their work when the found it hard but didn't give up, how some overcame their fears by speaking in front of lots of people, or putting themselves forward as a candidate for school council, we found out children had taken part in science experiments that were quite disgusting but didn't give up and many more achievements!
Lots of our children also shared their achievements outside of school - we had several children who received Man of the Match for their football teams, a child who passed her karate grading and moved up to red belt and several children who had taken part in local junior park runs!
We had a fantastic celebration assembly and it was great to hear all the exciting things our children have been doing this week!