Feeling hot! Hot! Hot!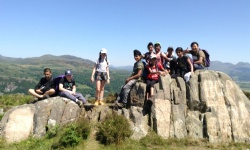 After an exhausting second day up in the mountains, all of the children (and staff) are ready for a cooling down. Climbing, problem solving and admiring the beautiful views were on the agenda for today.
After a hearty breakfast, all of the children set off for a jam-packed adventure-filled day. Some of the children undertook some difficult problem solving activities but luckily almost everyone was rescued from the pretend, shark-infested, custard waters. Afterwards, these children began their climb up a mountain - getting an opportunity to see a glistening lake and make unique floating boats out of reeds. Finally arriving at the top of the mountain, we celebrated joyfully only to realise next was the descent! Happily, we all travelled back down (admittedly some in unconventional ways).
Meanwhile, other groups challenged themselves with a different mountain. Showing great teamwork skills, they helped one another to find their way upwards. They ate their lunch with amazing views atop of the mountain looking out over the whole mountain range. Eventually, they found their way to a stunning, sandy beach. Once there, they enjoyed the afternoon paddling, climbing rocks and cooling down with a refreshing ice cream.
Now ready for bed we look forward to the excitement that tomorrow will bring!