Oracy
Subject Leader - Mrs V. Northern
Intent
Cecil Road primary and Nursery School aims to help all children to learn through talk by developing their oracy skills. Oracy skills develop a person's ability to communicate with others. Although presentational talk plays a part in our oracy, exploratory talk is also an important skill to develop. Exploratory talk requires children to explore ideas and respond to the ideas of other people; where children need to build, challenge and clarify meaning. By encouraging whole school oracy values and a whole child approach, we aim to nurture confident, resilient children who can explain how and what they are thinking. To do this, we give our children time to explore ideas, extend their sentences and use a wide range of age-appropriate vocabulary verbally.
Implementation
Using research led by Oracy Cambridge, we have developed an explicit curriculum that teaches children about the four strands of oracy each week. These are:
Physical
Social and Emotional
Cognitive
Linguistic
While our children are developing the oracy skills to communicate, they will not only be able to learn through talk, but also become expressive and confident public speakers. Alongside our explicit lessons, our teachers scaffold an embedded curriculum to allow opportunities for oracy skills within cross-curricular lessons. We aim to ensure that our delivery of oracy education allows all children to have the skills and mindset to leave primary school with the capabilities to be effective communicators and collaborators. We also strive to educate our families to develop a greater understanding of the four strands of oracy and suggest fun and engaging activities they can use at home to develop these.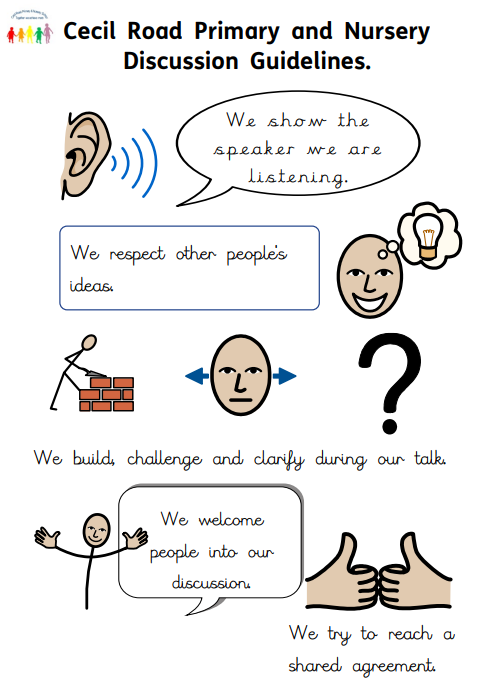 Impact
Our children will use these skills to become confident leaders and communicators in the workplace. When they are given the chance to explore ideas and collaborate, our children can problem solve effectively and reach a shared agreement. If they are unsure about how they feel or think, they will be able to explain and ask for help. As our teachers are using sentence structures to develop high level of vocabulary and clarity, the children will become more confident writers and learners.
Check out our podcasts below:
https://www.podbean.com/ew/pb-b2mpy-14fae69